Multi Cyclones Dust Collector
Multi-pipe type small cyclone make the contact area of powder sepeparation more.
Molding guide vanes make ventilation more stable uniform volume and the bottom of the powder hopper quickly removed and the side access windows make clean up easier.
Compact structure,small size,notrequire so many in the space for workshop.
You can choose to configure multiple small cycloneunit performed easily and quickly change color.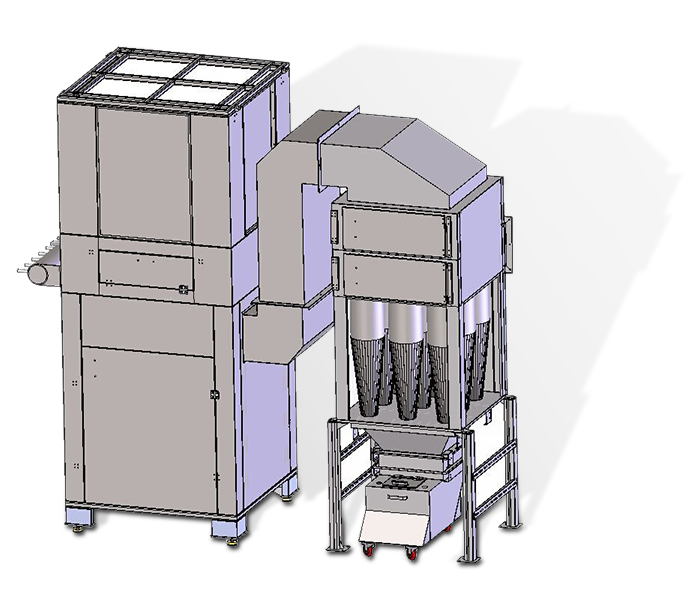 After Filter System
Multiple fillers make filtering area enough.

The efficiency of filter is up to 97%.

The precision of filer can reach 2-5microns.

Advanced rotary wing filter for cleanding system.

Automatic pulse-type counter blowing cleanding control models make the operation condition of the filter better and longer life time.

Air package to ensure that the air flow and air pressure toclean up when you make a more thorough clean-up.

Several side access window clean-up easier.

Top-mounted exhaust fan with ventilation so that the form of least resistance.

Top fan room side panel can be removed to facilitate later maintenance.
Top End Filter

Sencond Powder Filter systems

Cyclones Recovery system

Powder Collector
High Efficiency and Fast colour
Change Systems
Mono-cyclone Separator

Mono-cyclone single-tube structure makes clean up shorter color change.

Mono-cyclone separation rate of up to 98%.

Disc cone bucket and cylinder junction of the filter shaking motor efficiency vibration screening.

Removable disk cleanup filter with change.

Bevel the bottom of the bucket can be configured to work in alternate double balloon valve.

Bevel the bottom of the bucket can be configured to pump fluidized powder + powder pump delivery forms.

Exhaust pipe at the bottom end face of the circular cover plate can be quickly disassembled for cleaning.
When Choose the automatic spray booth?

When you need continuous work at least 6~8 hours per day and require the high production.

How about the length the automatic spray booth body?

Normally we make 6 meters , also we accept the custom-built size.

What different the Mono Cyclone and Multi Cylones booth?

Both them have efficiente working for fast color change, just the Mono cyclone occupy higher space of the factory at least 7~8 meters.

you can choose according to your conditions.
COLO-2000D Classical Model

Frequency-adjustable reciprocator is specially designed for high quality powder coating,it can carry up to 2-12pcs spray guns and optional for wet painting guns as well

Feature of the reciprocator:

80 storable programs

Frequency: Japanese Mitsubishi
COLO-2200D Updated Model

COLO-2200D Reciprcator is electrically driven by a frequency control motor via PLC,give gentle and precise motion,thus ensuring perfect coating result.it is wheeled for easy moving and fix,the slim column design allows for space saving arrangement of the guns.

Feature of the reciprocator:

Could store 20 programs

Easy operation

Smooth and accurate running

Solid and maintenance free

Height or the stroke adjustable and customized
Technical Characteristics
| | | | |
| --- | --- | --- | --- |
| Powe supply | AC 220V/110V 50HZ-60HZ | Stroke | 1.5m/1.8m/2m/2.5m |
| Power of motor | 0.75kw/1.1kw | Speed | 0-0.8m/s(0-50m/min) |
| Speed | 0~50m/min | Standard size | 308*95*87cm |
| Max load capacity | 25kgs | Weight | 295kg |
The advanced digital powder coating machine COLO-191s Cabinet

Can easily and precisely control all pneumatic and electrostatic parameters, make good powder coating quality.

Ensure powder output regulate, save the powder.

It is very easy to operate and offers 3 pre-set standard application programs for flat parts, profiles and recoating Portable type, with hopper D20xH40cm

Quick Service & Solution For Full COLO Products
Get in Touch,ASK A QUESTION
Please send your message to us
In need of our Powder Coating Kits?
Find out more about our standard Size powder coating equipment Kits (Includes Powder Coating Booth, Electric or Gas Powder Oven, and Optional Gun) or send us your enquiry now to find out what we can do for you.